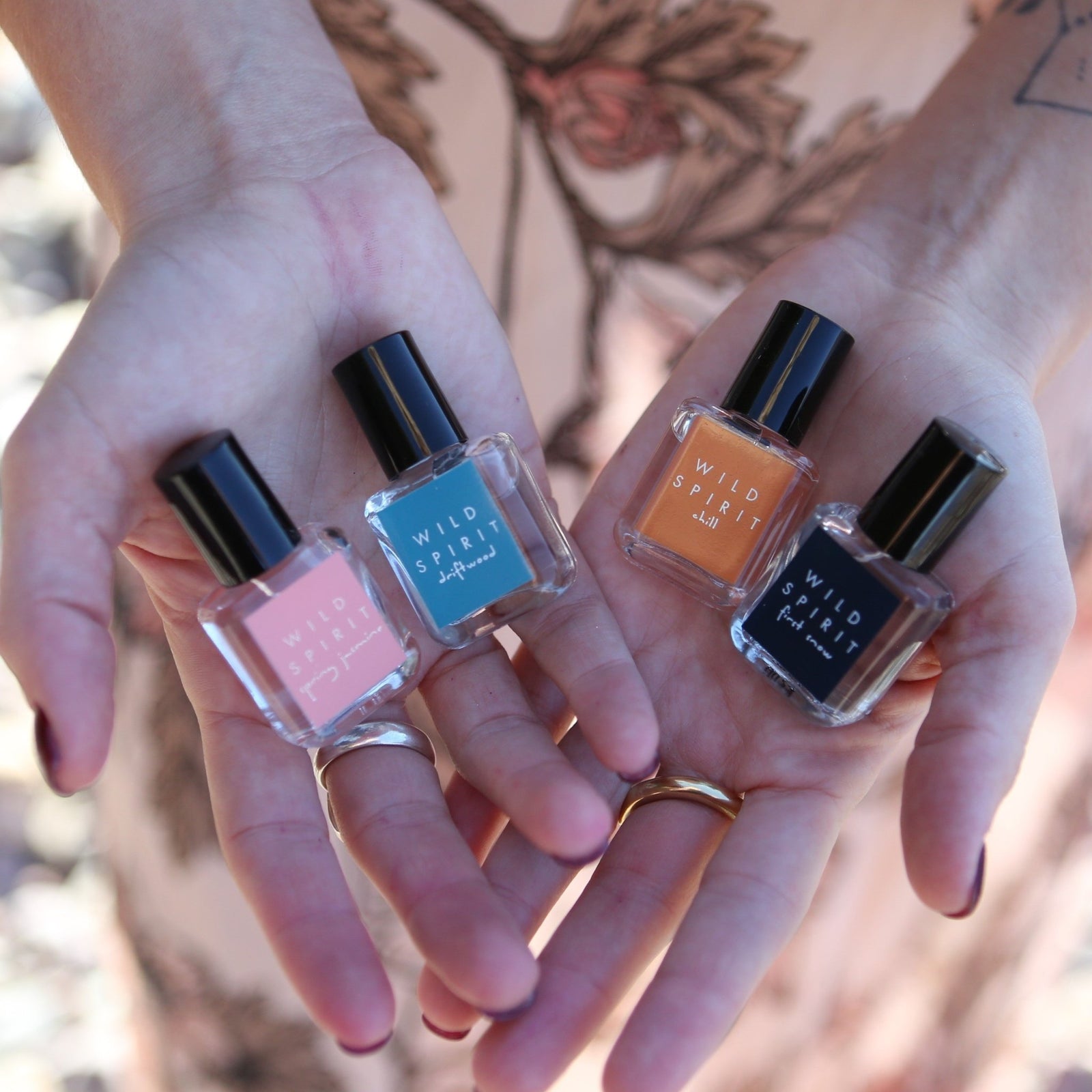 At Wild Spirit Fragrances, we have embraced cleaner, greener, cruelty-free fragrance formulations.
What goes on your body is just as important as what goes in it, which is why it's time to question what exact ingredients make up your favorite fragrances. Most fragrances boast that they are clean and green, but what does that really mean? We took a look at the top chemicals in mainstream fragrances to determine what they are, why they are used, and why they shouldn't be used.
At Wild Spirit Fragrances, we have embraced cleaner, greener, cruelty-free fragrance formulations.
Parabens
Parabens are a type of preservative used in beauty products to prolong shelf-life and maintain product longevity. Introduced in the 1950s, parabens, specificallybutylparaben,methylparaben andpropylparaben,are often included in fragrance to prevent growth of yeast, mold, and bacteria.
People like to stay away from parabens because studies show they can seep through the skin and end up mingled with body tissue. Once in the tissue, parabens can mimic particular hormones and affect body chemistry.
Parabens have also been found in the ocean and on the bodies of marine life, supposedly the result of products washed into sewage systems. ICK!

So, parabens have not necessarily been deemed as unsafe, but we feel that Wild Spirit products don't need parabens to be amazing, nor do we want them EVER.
Sulfates
Sulfates are included in beauty products as a means to remove dirt and oil. Whether synthetically or naturally derived, sulfates are mainly present in soaps and shampoos as a cleansing agent to create a lathering effect. Occasionally, sulfates will make an appearance in fragrances to maintain a cleaner blend.
Most sulfates will only be present in small amounts and have not yet been proven to have negative health effects aside from eye and skin irritation. However, the resources used to make sulfates including petroleum and palm oil have negative environmental effects.

The two most common sources used to make sulfates are palm oil and petroleum. The need for palm oil can lead to destruction of tropical rainforests and palm tree farms, while petroleum is associated with climate change and emissions. Also, products with sulfates that get washed down drains can be toxic to marine life.
The biggest problem with sulfates is the animal-testing that comes with production. To ensure that the sulfates in a product will not cause itching, eye irritation, or skin irritation, there is still lab testing on animals. Of course, we stay away from this, and our products are cruelty-free.

Smelling amazing doesn't need to harm the earth or animals we care about, so Wild Spirit products are sulfate free to ensure that our fragrances don't harm the world around us.

Dyes
Dyes are commonly found in cosmetic products, and fragrances, and mean that there is some kind of color or scenting that does not occur naturally. Essentially, chemicals are mixed and added to make a product look or smell a certain way making a new composition.

Dyes are extremely controversial, which is why natural coloring, flavoring, and scenting is such a trend. Whether this is through the inclusion of natural essential oils or other sources, companies are trying to find an alternate route that is more natural.
With Wild Spirit Fragrances, what you see is what you get. Our scents contain natural essential oils and are completely dye free, as we don't want dyes in or on our bodies.
Phthalates
Phtalates, sometimes called plasticizers,  are a group of chemicals used to make plastics softer, more flexible and harder to break. Phthalates are used in fragrance to extend the aromatic strength of fragrance oil, aka to last longer.

Because of food and body products, we already have phthalates in our system. But, that doesn't mean we need them in our perfume. All Wild Spirit products are phthalate free.
More Wild Tips...
If you're looking for more perfume scentspiration, check out our Wild Spirit Fragrance Mixing Mocktails for some creative mixing and matching of your fave Wild Spirit scents!
Visit our scent finder to discover the perfect perfume for you!