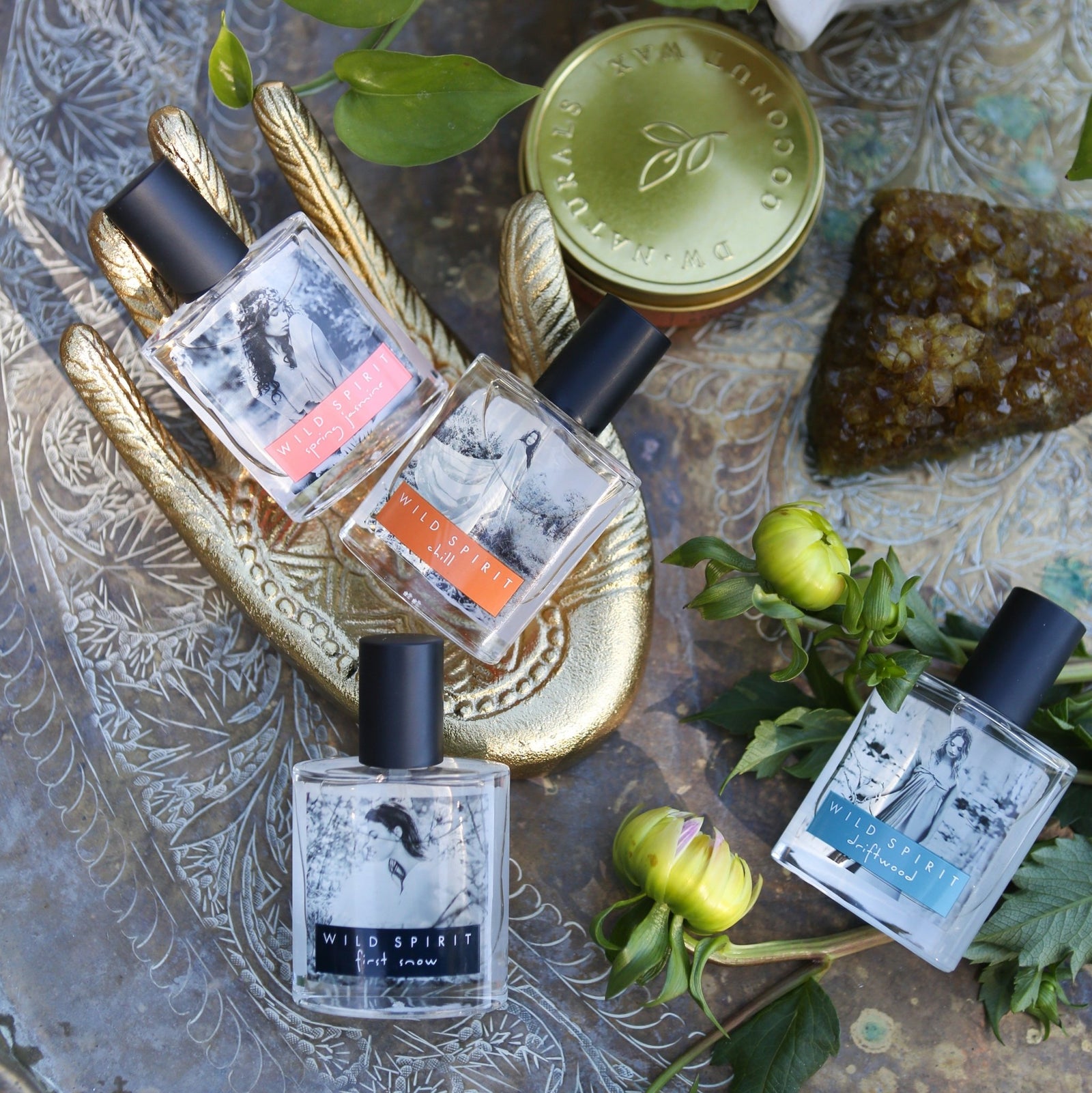 Wild Spirit Fragrances is a line of fragrances and body care that is 100% vegan, cruelty-free, free of parabens, sulphates, phthalates, and dyes, and made in the USA.
Wild Spirit Fragrances was born from sister brand, Raw Spirit Fragrances, in 2018 and is a female co-founded and owned company, created to address the need for clean beauty at an affordable price point.
The five signature perfumes were designed to be individually unique, but also to layer harmoniously together for new scent experiences. The fab five vegan scents are Chill, Driftwood, First Snow, Spring Jasmine, and Rosy Glow. The names may sound seasonal, but the fragrances can be worn year-round.
CHILL
Chill is a sweet and dreamy scent. Creamy and delicious, this scent contains notes of golden apples, vanilla and cinnamon, fresh ocean breeze, and hints of salted caramel. Chill is the fragrance fitting for wanderlust adventures, and cozy days spent sipping chai lattes.
DRIFTWOOD
Driftwood is the fresh and airy fragrance perfect for everyday wear. With salty ocean notes, star jasmine, wild freesia, cedarwood, and whisper soft musks, Driftwood is like a burst of energy. Whether working hard in the office or out to dinner with friends, this scent is a great compliment for any situation.
FIRST SNOW
First Snow is an incredibly unique scent, totally bold and spicy. Combining black pepper, guaiacwood, juniper berry, birch, lemon, orange, vanilla, and Bushman's candle, First Snow is completely striking.
SPRING JASMINE
Spring Jasmine is delicate and floral, a fabulous scent for a stylish cutie pie. This enchanting blend of crisp green apple, warm vanilla, creamy jasmine, hints of blackcurrant, and a pinch of Sichuan pepper creates ultimate flower power made for a first date or day exploring.
ROSY GLOW
Rosy Glow is juicy and floral, a fitting scent for the social butterfly. Vibrant and fun, Rosy Glow mixes lychee rose, succulent peach, bergamot, and a pinch of pink pepper for subtle spice great for a brunch with friends or an impromptu party.
PERFUME DISCOVERY SET
The Wild Spirit Fragrances Perfume Discovery Set is an incredible way to try multiple Wild Spirit scents and play with your scent. In four convenient 10mL rollerballs, the Discovery Set is perfect for on-the-go scenting! You can also mix and match them and layer them together for a fragrance that's uniquely yours. We all need options!
PERFUME ATOMIZERS
These adorable perfume atomizers are available in teal Chill, blue Driftwood, hot pink Rosy Glow, and light pink Spring Jasmine. To use the atomizers, just insert the glass vial, twist, and then spritz your fragrance. Wild Spirit perfumr atomizers are totally portable, have huge purse appeal, and make amazing gifts.
The different scents come in all different types of products including rollerballs, 30mL eau de parfum sprays, body mists, hand creams, and atomizers. The Wild Spirit 30mL Eau de Parfum spray fragrance is the classic way to reinvent your scent, perfect for everyday use. You can find Chill, Driftwood, First Snow, Rosy Glow, and Spring Jasmine in this size.
If you're looking for more perfume scentspiration, check out our Wild Spirit Fragrance Mixing Mocktails for some creative mixing and matching of your fave Wild Spirit scents!
Visit our scent finder to discover the perfect perfume for you!