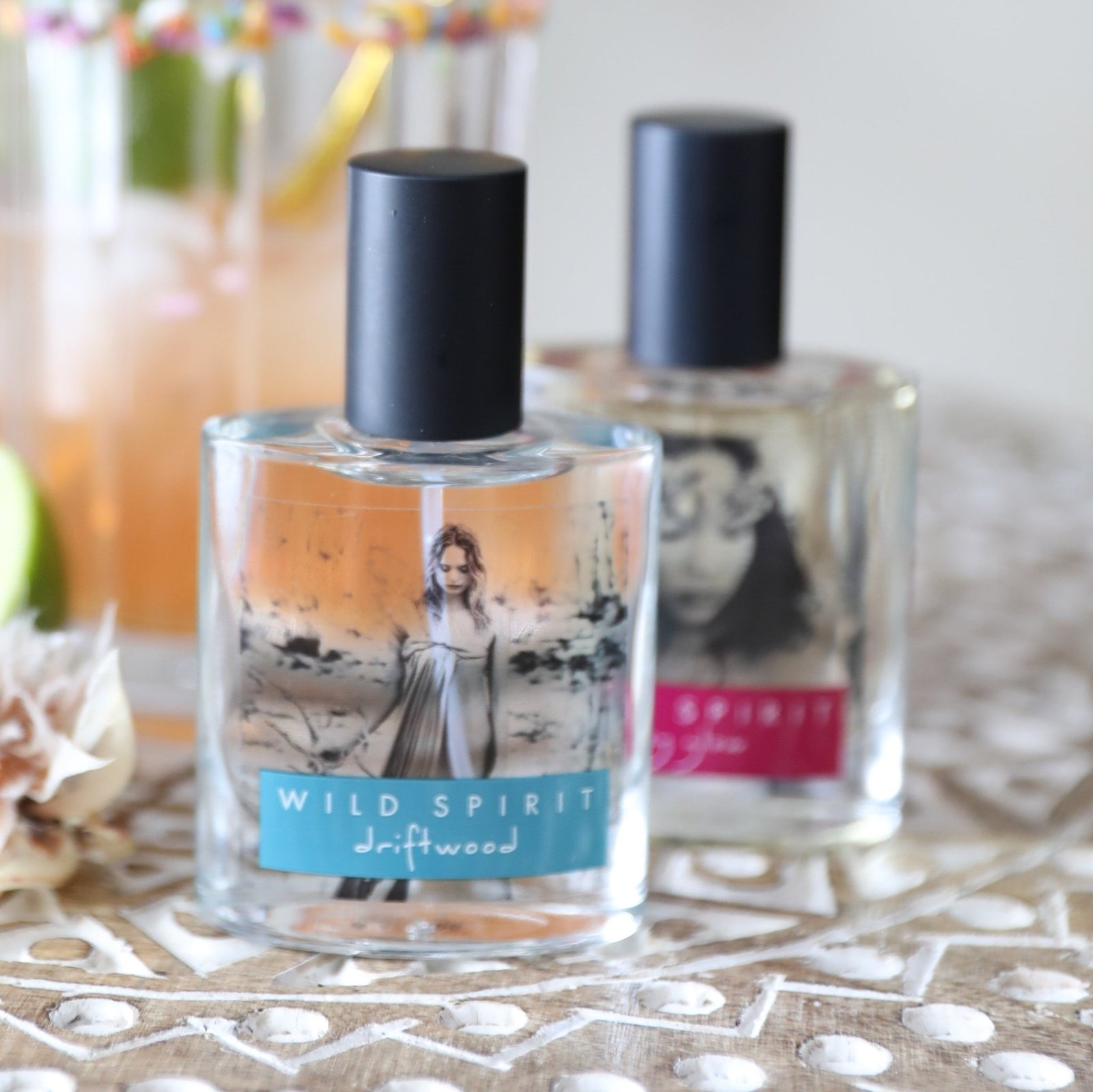 The ultimate scenting guide on where to apply your perfume.
With the hustle and bustle of daily life, we think it's crucial your fragrance keeps up with you! Sometimes the "mist and runway-walk through" doesn't offer a long lasting scent experience and some days you'd like a little scent surprise with every hair flip.
1. Spray your wrists and dab together. 
This is the classic way of spritzing, but there are reasons why it is the preferred method for scent. Your wrists contain pulse points that help optimize your fragrance application, as perfume is enhanced by body heat. Your wrists contain pulse points that allow your fragrance to be at its most SCENTsational.  Other pulse points include behind your ears, backs of knees, ankles, elbows…
You should always DAB your wrists together after spraying, never RUB – rubbing wrists together when applying your perfume diminishes the scent. If you gently dab the perfume once it's on your wrists, your fragrance will linger longer.
The Wild Spirit Way: Spray some Driftwood Eau de Parfum on one wrist and spray Spring Jasmine Eau de Parfum on the other. DAB your wrists together a few times to create a totally new scent that goes the distance.
2. Spray your wrists and gently touch them to your neck.
Spray both wrists with perfume, and instead of dabbing them together, gently press them to either side of your neck, and behind your ears. These spaces on your neck contain pulse points, aka more body heat, that will enhance your fragrance.
One of the benefits to wearing fragrance on your neck and wrists, aside from fragrance longevity, is the hug effect. When you go in for a hug, the other person gets a whiff of your fabulous fragrance, and of course, you will smell ah-mazing.
The Wild Spirit Way: Spray some Rosy Glow Eau de Parfum on both wrists, but instead of dabbing together, press one wrist below one ear and the other wrist below the opposite ear. This will allow you to spread your scent all over your pulse points.
3. Using an unscented lotion as a base for your fragrance, or go nuts with a scented one!

This is one of the most popular methods used to ensure fragrance longevity. Applying a body cream or lotion first as a base not only hydrates and makes your skin feel fresh (bonus!), it also helps hold fragrance longer. Try applying lotion to other pulse points (wrists, neck, back of knees) before spritzing to hydrate AND hold your favorite fragrance in place.
The Wild Spirit Way: Find your favorite unscented lotion and smooth it over your wrists and below your ears. Spritz some Chill Eau de Parfum over your freshly moisturized wrists and dab together, and dab below your ears. This helps hold your scent and give you a longer time with this sweet, cozy fragrance.
4. Spritz in the air and strut through the mist.
This classic "I have to be out the door in 2.5 seconds" application gives a quick burst of confidence before a big day (or any running late Monday). Although this method doesn't hold fragrance that long on your skin, it will linger on your clothes for the rest of the day, or longer.
The Wild Spirit Way: Spray your First Snow Eau de Parfum into the air in front of you, close your eyes, and step through the mist. Bonus points for runway walking! Feel free to repeat the process once or twice depending on how much fragrance you'd like to apply. We suggest 2-3 walk throughs with and EDP.
5. Spray your accessories for a lingering, mysterious scent experience.
Spraying your fragrance on a hat, scarf, or scent diffusing bracelet is a great alternative to spraying it directly on your skin or hair. These accessories are also covering the same areas you would normally spray your fragrance, so it just makes sense.
The Wild Spirit Way: Lightly mist your Spring Jasmine Eau de Parfum on your favorite hat before you wear it, and spray a Wild Spirit Lava Bead Scent Diffuser Bracelet with some Rosy Glow before putting on. By spraying different perfumes on multiple accessories, the scents will mingle in the air around you in a lovely way that isn't overpowering, and will create a personal scent moment with every move.
More Wild Tips...
If you're looking for more perfume scentspiration, check out our Wild Spirit Fragrance Mixing Mocktails for some creative mixing and matching of your fave Wild Spirit scents!
Visit our scent finder to discover the perfect perfume for you!