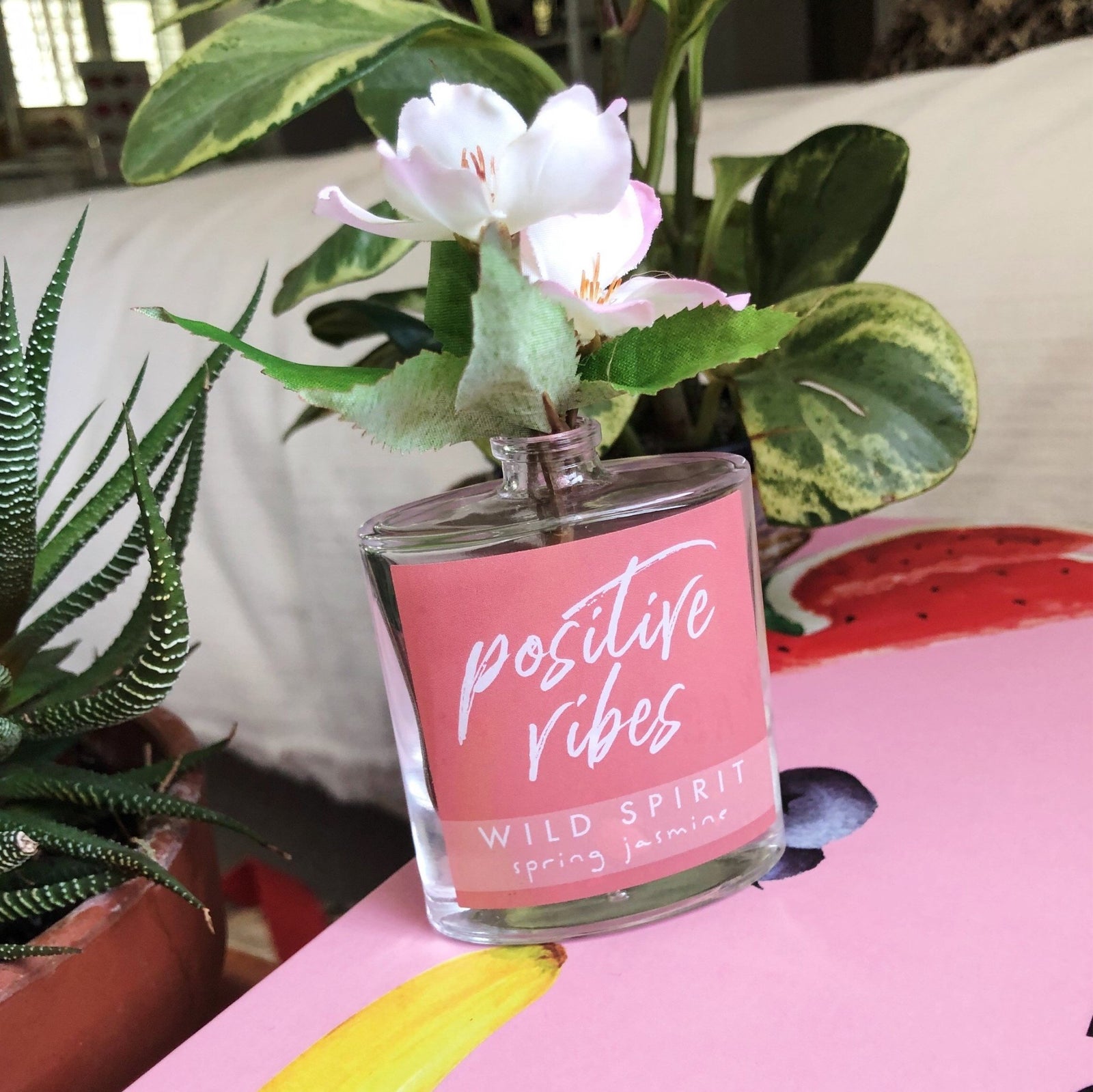 Repurposing Your Perfume Bottles
Five ideas to turn your empty perfume bottles into cute décor!
Using the last drop of your favorite perfume is definitely one of the biggest downers. But the good news, (aside from your replacement perfume being available on our website!) is that you can reuse your perfume bottle in creative ways!  Instead of tossing the bottle  away, upcycle your perfume bottle into something useful and fun.
Repurposing is a method of recycling in which you take something you have used, and then give it a new and different purpose. For example, if you finish a can of seltzer, you can paint it and turn it into a chic vase for the top of your dresser.
Because we love perfume, and cannot bear to part with our adorable Wild Spirit bottles, we came up with some fun ways to repurpose them. Here are our top five ideas for turning your empty perfume bottle into new, trendy décor.
Miniature Flowerpot/Vase
Plants can enhance any space, so the more the merrier! Perfume bottles are perfect mini vessels for flowers and single blooms. The best part? If you don't have a green thumb, you can use your favorite faux flowers!
First, remove the cap, nozzle, and spray mechanism from your bottle. This might take a little bit of effort, but once it is removed, you can clean out your perfume bottle with a little soapy water, rinse well, and let it dry. Next, pick your favorite flower (real or faux) and arrange it in your bottle.
The end result is an adorable, mini vase that's just perfect for nightstands, dressers, small spaces and more. If you want to make a faux flower look even more special, you can add colored water, small stones, or  glitter to put in the bottom of the bottle. Because, don't we all love a glitter moment?
Paintbrush Holder
Perfume not only makes you smell amazing, but it also inspires major creativity. Use your empty perfume bottle as a convenient paintbrush holder.
It's nice to keep wet brushes out of the way, especially while creating a watercolor masterpiece - have you seen our new free coloring pages? Using a perfume bottle as a brush holder keeps your brushes off of your surface and out of the way while you create.
Message in a Bottle
This was one of our favorites, and definitely very needed. Our perfumes were inspired by self-expression, individuality and self-love, so we love to spread positivity and good vibes whenever we can. Reuse your perfume bottle on your desk and place little love notes to yourself inside.
First, remove the spray mechanism and wash out your bottle with a bit of soapy water, and rinse. Turn it upside down over a towel and let it completely dry. Once dry, place it on your desk and add any extra decorations you want (stickers, labels, etc.). Take a small piece of paper and write your favorite quotes, small encouragements, love notes, and more. Then roll it up nice and tight and place it in your bottle.  Select a new quote every day for added motivation.
Convenient Bathroom Storage
We are always looking for new ways to spice up our bathroom decor and add a little extra storage, especially when it's cute! For all of those tiny bathroom must-haves like Q-tips and eyeliner brushes, convert your perfume bottle into trendy storage.
Once you remove the spray mechanism from your bottle, clean it out and let it dry. After it is completely dry, you can hold bathroom necessities like Q tips and leave on the counter for quick and cute dispensing.
Succulent Watering Mister
We all adore our succulents, sometimes so much so that we over-water them. Turning a well-loved perfume bottle into a succulent watering vessel is an innovative way to make sure that your succulents stay perfectly hydrated.
To make your succulent mister, remove the spray mechanism and thoroughly wash your bottle. Then, fill it with clean water and replace the nozzle and top. You can make a cute label like our "Succulent Beverage" using printer paper and tape and voila, you have the perfect succulent watering can!  Remember to spray the dirt, not the leaves of the succulent.
We love the earth and want to do our part to go green. All of the perfume bottles pictured were well loved Wild Spirit perfumes converted into convenient décor. If you feel inspired and want to get spritzing, check out our perfumes and even design your own with Wildly Yours.